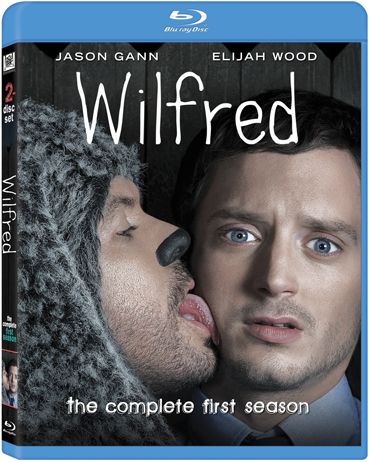 …
Wilfred was first introduced to me by my boyfriend well over a year ago. To be honest, my initial reaction was "This would be great…if I were high". Since I don't partake in illegal activities [as far as the internet knows], Wilfred took a backseat in my must-watch list. I only watched one episode, and I was unsure if it was the first, second or last.  Or even apart of the first season at all. However, I received the complete first season of Wilfred to review from Think Jam.
My boyfriend, Frank, is a huge fan of the series. We watched the entire season together in one night, and I couldn't stop giggling. While this is definitely not something you want to watch with your kids, this is great for a couples movie night.
Ryan, played by Lord of the Rings star Elijah Wood, is a lawyer who can't seem to have his life look up. He forms a one-of-a-kind relationship with his sexy neighbor's pet dog named Wilfred. Ryan's mind is playing tricks on him. Instead of seeing a dog, he sees an Australian bloke (Jason Gann) who is a pothead and major beer drinker. Wilfred also has a filthy mouth. With the odd companionship, Ryan might just learn to stand on his own two hind legs and take life by the balls. Embrace the insanity of real life, as the back of the DVD case states.
This 2-disc DVD contains all 13 episodes of season 1. If you watch them in order, you'll get it…you'll love it..and you'll crave season 2. In addition to the 2-discs, the season one DVD has special features including Mary Jane Mash-Up, Deleted Scenes, Wilfred& Bear: A Love Affair, and Wilfred at Comic Con 2011.
Wilfred: The Complete First Season was released on Blu-Ray and DVD June 19th.It has a run time of 286 minutes, which is almost 5 hours of laugh out loud entertainment.
I strongly recommend this DVD if you're looking to cackle for a few hours. Can't wait to watch the season 2 set!
Stay connected with 20th Century Fox Home Entertainment via Twitter!
…