Even though summer doesn't officially end until September, moms with school-aged children know that school ends the Sunday before school starts. My daughter will be in preschool next fall. So hard to believe! Heck, even I'm going back to school this fall for my junior year of college. My family and I decided to have one last (small) hoo-rah before we head to Florida because the day after we return is my first day of class!
…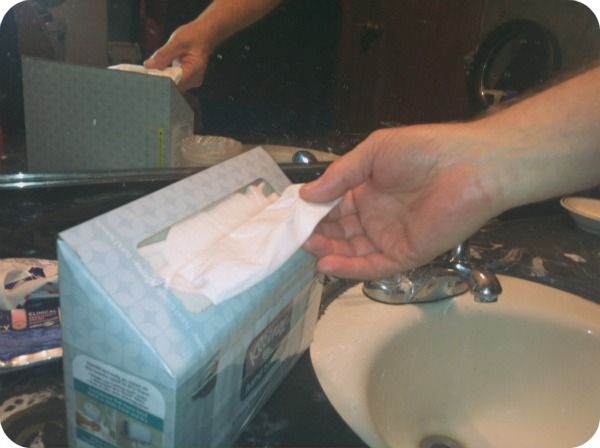 I placed the box of Kleenex Hand Towels that I received to conduct these series of posts right by the bathroom sink for ease of access. We did not have to use the same cotton hand towel, which would have spread germs between all of us. After we ate some of my delicious homemade chili with chips (I didn't have any chips! I'm on a semi-strict diet.), everyone got a chance to use the Kleenex Hand Towels to dry their hands off after washing them.
…
Reusable cloth hand towels in bathrooms are often germy and damp due to the high volume of traffic. It's simply not hygienic to use the same towel for everyone at a party or get together. My immediate family thought it was pretty neat that these hand towels were able to be thrown away after a single use without breaking the bank.
…
My grandfather posed for a picture using a Kleenex Hand Towel. I live with him, and he likes the fact that this reduces laundry time!
Additionally, with Kleenex Hand Towels, there are no dyes, inks or fragrances. These are especially appropriate for those with sensitive olfactory nerves. I happen to love smell good stuff, but it's a nice relief from time to time.
Like I've mentioned in previous posts, you can purchase a 60-count box of Kleenex Hand Towels for just $2.99. It's available in grocery and mass retailers nationwide!
Disclosure: I was selected for this opportunity as a member of Clever Girls Collective and the content and opinions expressed here are all my own.