When I was pregnant with Isabella, I was so set on breastfeeding her. I knew I wanted to pump, as well. I bought the pump online from eBay for a bargain. Unfortunately, you get what you paid for. The breast pump did not work! 🙁
Next thing you know…all of my hopes and dreams about nursing my first born were shattered. Due to an uncooperative nurse, I fell into the dreaded "booby trap". Isabella was given two minutes to figure out how to latch before a bottle of formula was poured down her throat. While I'm most certainly not against formula feeding, as I realize not all mothers are able to successfully breastfeed, it really took quite the toll on me. Those who never even planned to nurse or never had kids of their own thought I was being a drama queen. Breast is best, and I felt like I failed not only myself…but Isabella. I tried to nurse again once we arrived home, but I had no idea how to help her to latch.
With baby #2 due in approximately 3 years, I can rest easy knowing that Lansinoh is on my side every step of the way.
…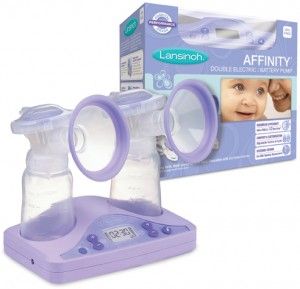 …
Lansinoh was kind enough to have me review a big box filled with goodies! One of those included the Affinity Double Electric/Battery Breast Pump. While I can't quite test out how much milk is produced yet, the Affinity Breast Pump allows for more milk in just half the time. The suction is adjustable, and I felt absolutely no discomfort. Yes, I tried it out even though I'm not lactating. Don't judge me. 😛
Lansinoh guarantees that there will be no milk backup thanks to their hygienic design! What I like the most about this breast pump is that it is compatible with any hands-free nursing bra. Taking care of a preschooler along with a newborn is sure to be challenging and leave me without any hands available. It's nice to know that I can accomplish at least one task without the use of my hands.
The Affinity Double Electric/Battery Breast Pump can be used for long term use, at home and away. Lansinoh had every mother in mind when creating this breast pump.
Features included:
ComfortFit Flanges

Maximum Hygiene design

Built-In Bottle Holders

LCD Timer

Adjustable Settings

Compact, Light Base

Let-down Button

AC Adapter/Battery
The Affinity Double Electric/Battery Breast Pump contains 1 double electric breast pump, 2 5oz bottles, 2 bottle lids, 2 ComfortFit flanges, 2 extra white valves, AC adapter, 2 Milk Storage Bags, 2 Nursing Pads, HPA Lanolin sample, velcro strap for tubing and instruction booklet.
With so many great features, it's easy to tell that Lansinoh's Affinity Breast Pump is the cream of the crop!
…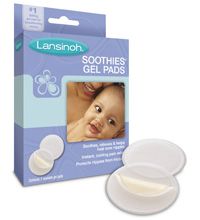 …
I also received Lansinoh's Soothies Gel Pads. These gel pads are reusable and provides sore nipples rapid relief. This would have been handy the first week after giving birth. My breasts were incredibly sore from being engorged, and I was throwing ice packs on them all day long. If I would have used Soothies Gel Pads, there wouldn't have been any mess from melting ice! The soft fabric backing on these pads act as a protective barrier so there is no bra friction.
…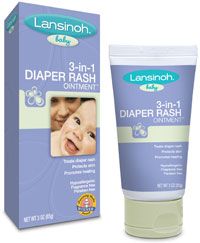 …
Lansinoh's 3-in-1 Diaper Rash Ointment works like a charm. Isabella had a small diaper rash about two weeks ago caused by eating yogurt. I applied the diaper rash ointment after every diaper change, and THANK GOD…the rash disappeared in less than 2 days. The Diaper Rash Ointment is hypoallergenic, fragrance free and paraben free. Isabella is very thankful that her rash was gone in record time!
…
Additionally, I was sent a bunch of HPA Lanolin samples. I had enough to share with my nursing momma friends! We all came to a mutual agreement that Lansinoh's lanolin was not only incredibly soothing, but safe for both mommy and little one. I previously used the HPA lanolin during my first week of motherhood, and I remember vividly how thankful I was to have it on hand. I only went through a single tube before my breasts returned to normal. Which, unfortunately, meant going from a DD to a C. Well, a D now since my body doesn't know if it wants to be athletic or frumpy LOL
HPA Lanolin is 100% natural. If you've been tuning into my blog regularly, you know I'm all for natural living. It is preservative free and is the world's purest lanolin. Did you know that Lansinoh's HPA Lanolin is the ONLY topical nipple cream endorsed by  La Leche League International? I sure didn't!

LatchAssist is a must-have for women who are experiencing inverted or flattened nipples. It draws out your nipple without any pain or discomfort. LatchAssist will aide you in successfully nursing your bundle of joy.
Beautifully BellaFaith will be giving away a diaper bag full of Lansinoh goodies during our Falling in Love with Baby event at the end of September!
Use the "Where to buy" feature on each product's page to discover a store near you that carries Lansinoh' s array products!
Stay connected with Lansinoh via Facebook and Twitter.