We've all experienced breast sweat, whether as a result of hot temperatures or physical exercise. Pambra's is the Original Bra Liner that will attract the moisture AWAY from your skin.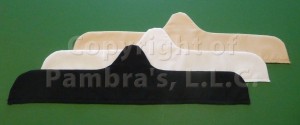 I experience major perspiration under and between my breasts. The majority of the time, it is from working out. I'm currently attempting to shed the pounds off, but sweat is bound to happen. Unfortunately, sweat can make your skin itchy and irritable. 
It doesn't just happen during my workouts, though. I live in a city that has very high temperatures, and my clothes are damp with sweat. Especially my bra! 
Now, I can rest easy knowing that Pambra's Original Bra Liner will wick the moisture away from my skin. It fits easily and requires no pins, tapes or hooks. It stays in place perfectly with a properly fitted bra. They are also machine washable and dryer safe. I have absolutely no complaints about this bra liner, which I received in black. It works exactly like advertised on their website. I use it for when I'm working out, and I know longer have to stop because of my skin.
For every Pambra's package sold, they give back to Susan G. Komen/Ozark. That's a cause I can get behind 100%!
Also, check out their video on YouTube!