Lips deserve to get pampered, too. And, with My Lip Stuff, you can treat your lips while being environmentally and animal friendly!
My Lip Stuff's ultimate mission is to end the suffering of people with chapped lips all across the land. In the process, they strive to end animal testing and save the environment with chemical-free natural products!
Is this a tall order? Absolutely. But they are dedicated- and are willing to start small. If we all do our part our combined efforts will make a big impact on the future of the planet, & just maybe we'll find a cure for something– even if it is just chapped lips!
My Lip Stuff's products are NEVER tested on animals & contain natural (from the earth) ingredients that are skin loving. Their products do NOT contain any harsh ingredients- and NEVER contain petroleum or mineral oil! They also do what they can by using recycled (and recyclable) materials whenever possible, and even using "green power" (power from renewable resources such as wind, water, or landfill gases-instead of oil). They also Drive a Hybrid, and use only fluorescent lighting (no incandescent bulbs here!).
In the end, they strive to create a natural product made from only the highest quality ingredients, with the least amount of impact on the environment and its inhabitants, for the lowest possible price.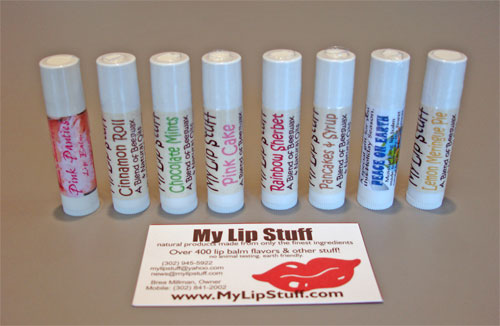 For my review, I was sent three of My Lip Stuff's simply amazing lip balms. I received the following flavors: peach cheesecake, maple and brown sugar, and orange creamsicle. Okay, they must have known I have an obsession with cheesecake! The peach cheesecake flavor was my absolute favorite!! It smelled so delicious that I wanted to eat it right out of the tube! The maple and brown sugar was just as awesome. It is the perfect blend of maple and brown sugar – Stevia sweetened. The orange creamsicle was so sweet. It is orange, cream and a hint of vanilla that makes up My Lip Stuff's version of this popular ice cream.
These lip balms glided on my lips with ease. No having to rub it against my lips over and over again like other lip balms. With over 500 different flavors to choose from, this would make a great stocking stuffer for EVERYBODY!!
Win it:
One winner is going to receive a 6-pack of lip balms from My Lip Stuff!