Isabella is an extremely picky eater. Extremely is NOT an understatement. She tends to only eat fruit, bread, bacon and the toppings off of pizza. I recently discovered that my daughter still prefers pureed food as opposed to solids. Don't get me wrong, she still loves a slice of bacon for breakfast, but when it comes to ultimate nutrition, I know where to turn. Yummi Pouch!
…
We decided to fill the Yummi Pouch with a food that I normally have to fight her with to it – oatmeal, specifically cinnamon apple oatmeal. I pureed it before dispensing it into the pouch, so she could easily squeeze the contents into her mouth. Unlike traditional pouches, this one has the spout on the long-side, as opposed to the short-side. 
One of my favorite features of the Yummi Pouch is that I can refill it over and over again! No need to toss in the trash after the first use. This is definitely the eco-friendly way to go. After Bella was through with the Yummi Pouch, all I had to do was toss it in the dishwasher, since it IS dishwasher safe. In addition to being dishwasher safe, it is also freezer safe! If you'd like to prepare a batch of delicious and healthy food for your baby, just place it in the freezer so it'll remain fresh.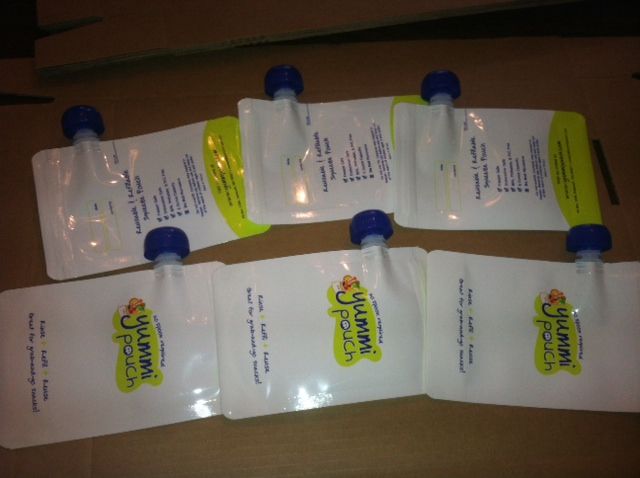 With Yummi Pouch, I can feed my daughter nutritious meals that I know for sure aren't filled with a ridiculous amount of sugar and sodium. These are GREAT for kids on the go, like my Bella. She's 3, so that means she's constantly in motion. She can run around and play with her Yummi Pouch in hand and take a sip whenever she likes. 
Yummi Pouch is BPA and Phthalate FREE! The material used for Yummi Pouches is food-grade polyethylene.
…
Below is a short video I shot of Bella enjoying cinnamon apple oatmeal in her Yummi Pouch –
You can purchase 6 Yummi Pouches and caps for $14.99!
…
Stay connected with Yummi Pouch via Facebook, Twitter, Pinterest, Google + and YouTube!
…
One lucky Beautifully BellaFaith reader is going to win a set of 6 Yummi Pouches! The giveaway is set to end June 5th 11:59PM EST. The winner will have 48 hours to respond before another will be drawn. You do not have to be a blogger to enter or win. Beautifully BellaFaith is not responsible for prizes that are lost, damaged or stolen. Good luck! 🙂