How to Save on Wedding Rings
…
Women often wonder why it takes some men so long to pop the question after they've been in a relationship for several years. One of the reasons might be that the guy is simply saving up to buy her the wedding ring that his long-time girlfriend truly deserves. There's nothing wrong with taking the time necessary to do the right research to find out the woman's ring size, the style that she likes and all of the considerations that need to be taken when looking at wedding rings. Thankfully, there are ways for a husband-to-be to keep from going bankrupt trying to prove to his girlfriends how much she means to him.
…
Study the Rock
When looking at diamonds, look for those that are at least VS2, which means that no inclusions can be seen with the naked eye. While VS2s aren't flawless by any means, they set the standard for attributes that you should look for as you continue shopping. Even if a diamond isn't the best looking as far as the color is concerned, it can still make for a brilliant ring. You'll more than likely not notice as much color if you're looking at the diamond from an overhead angle; most appraisers study them from the side. You also have to keep in mind that the metal of the setting subdues the color tones.
Rather than looking at one carat, look at light carats that are slightly below, like .95. You can't tell the difference between light carats and full carats, but your wallet will. A loose .95-carat stone might run you $8,100, while a full one-carat stone could cost $11,300. You'll also want to consider the way that a diamond is cut since that's what will determine what the final product looks like. The cut is the most important factor to bear in mind, so you'll want to take your time and get it right. It's advised that you get the absolute best cut since you can trade up and get a better value on the ring.
…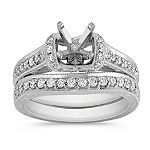 Get Loose
By purchasing a loose diamond from a direct diamond importer, hundreds of dollars can be saved. Those savings can more than compensate for the price that you'd have to pay to put the diamond in a setting.
The money you save on a wedding ring can be put towards the wedding, honeymoon or your new life with your wife. As long as you know how to save money, there's no need to worry about skimping on a ring that your soon-to-be-wife will adore.
Article courtesy of Shane Co.