…
It is a known fact that I, Amber Faith, love to sleep. I require close to 12 hours of sleep at night just to function. Crazy…I know. Like everybody, I desire to be as comfortable as possible in my bed…and around my house. Pajama pants and an oversized t-shirt is what you will usually see me in while at home. Nature's Sleep provides products that will allow you to achieve maximum comfort – including for your feet!
…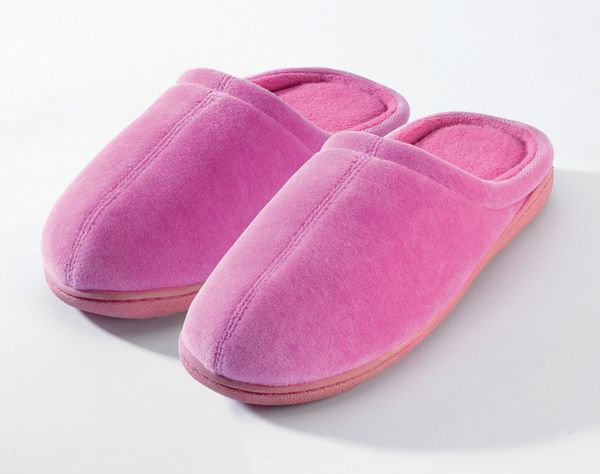 …
I received the pink Closed Toe Terry Slippers with Memory Foam. Slippers with memory foam?! I heard of mattresses and pillows utilizing memory foam, but slippers? My feet were sure in for a much needed retreat! These slippers are great for walking around my house, to the mailbox and after a nice, warm shower.
I decided to pamper myself – a full at-home pedicure! After the paint on my toes dried, I slipped my feet into the slippers and was instantly relaxed. I've never owned a pair of slippers a day of my life [minus the Spongebob ones…oh, and the cat ones when I was a child]. Who knew that slippers could provide you with so much comfort?
As many of you may know, pink is my favorite color. I'm a connoisseur of all shades of pink. The slippers above are more of a hot pink color, but the slippers I received were a pale pink. I'm not a fan of pale pink, but I can sacrifice the aesthetics for comfort.
I requested a size medium, and I found it to be true to size. Size medium fits shoe sizes 7-8 [I'm a size 7]. My feet fit snug [in a good way] as a bug in a rug. This will be especially useful in the wintertime when temperatures might reach 20 degrees or below here in Memphis.
Unlike a lot of slippers I've tried on, Nature's Sleep terry slippers provides the best support! This is due to the visco-elastic memory foam inner sole that I talked about briefly earlier. It cradles my feet like a baby and absorbs pressure and impact.
The Holiday season is right around the corner – YIKES! Nature's Sleep Slippers would make a nice gift for a mother, sister or friend!
…
You can purchase Nature's Sleep Closed Toe Terry Slippers for $30 in either pink, pale blue or sand.
…
Stay connected with Nature's Sleep via Facebook, Twitter and Pinterest.
…
One lucky Beautifully BellaFaith reader is going to win a pair of Nature's Sleep slippers of their very own! The giveaway will end August 27th 11:59PM EST. The winner will have 48 hours to respond before another will be drawn. You do not have to be a blogger to enter or win. Beautifully BellaFaith is not responsible for prizes that are lost, damaged or stolen. Good luck! 🙂