This is a sponsored post written by me on behalf of Sam's Club . All opinions are 100% mine.
Now that the holiday season is quickly approaching, it's time to think about winter road trips! Visiting family that live hundreds (or even thousands) of miles away is always a special treat. Although we may get caught up in the planning of road trips and family time once we arrive at our destination, we need to remember that making sure that our car's tires are in tip-top shape is on the top of the to-do list!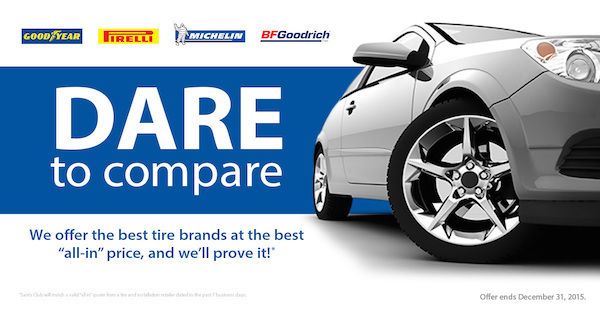 Car maintenance should be of top priority and consideration when planning a winter road trip. Regular car maintenance, like tire changes and brake inspections, ensures that your car is safe and dependable. When you're buckling in your most precious cargo, you want your mode of transportation to get them safely from Point A to Point B in one piece.
Sam's Club #DareToCompare Tire Event can help you get your vehicle checked and your tires winter-ready! Sam's Club offers the best tire brands at the best all-in price matching offer!
Here's how the Dare to Compare offer works:
Bring in a valid "all-in" quote from a tire sales and installation retailer to your local Sam's Club Tire and Battery Center service counter.

The quote must be printed on dealer/retailer letterhead and dated within the past 7 business days.

The tire must be the same brand, same line, same load index and speed rating (service description) as the tire intended for purchase at Sam's Club.

Sam's Club carries some club-specific tire lines – in these cases, Sam's Club will compare the club-specific tire line to the equivalent general-market tire line.
​
Sam's Club considers the following tire lines to be equivalent and will price match accordingly:
Club-Specific Tire Model
BFGoodrich Touring T/A
Michelin Defender XT
Michelin X Radial LT2
General-Market Tire Model
BFGoodrich Advantage T/A
Michelin Defender
Michelin LTX M/S2
Pirelli
9/18/2015 – 11/30/2015
$80 Instant Savings
In addition to unbeatable tire prices, Sam's Club also includes a tire installation packages with each tire purchase.
The Sam's Club Tire Installation Package* provides purchasing members with the following benefits and services for as long as they remain an active member of Sam's Club:
Tire Mounting
Tire Lifetime Balancing
Tire Lifetime Rotation
A Value Stem
No Charge Tire Lifetime Flat Repair
24-hour Emergency Roadside Service
* Complete terms and conditions of all Sam's Club warranties and services can be obtained at any Sam's Club Tire and Battery Center location
Visit your local Sam's Club Tire and Battery Center to make sure that your car is winter-ready!