Organic food as a bad reputation for not tasting as good as non-organic food. While that may be true with some organic food companies, it is not with Eden Organic!
"Eden began in Ann Arbor in the late 1960s with friends sourcing natural food. Young folks motivated by their study of a worldwide phenomenon centered upon macrobiotics; whole grains, plant based nourishment, and local food grown and made without toxic chemicals, and not nutrient depleted.
Natural foods were simply not available at the time, so they started the Eden food co-op to source and bring them in. Their initial $200 orders to Erewhon in Boston and Chico-san in California were well received and caused a local stir. Co-op members traveled rural roads knocking on doors, looking for farms to grow food using organic methods.
The Eden Co-op grew into a natural food store offering whole grains, beans, soyfoods, sea vegetables, miso, cereals, vegetable oils, seed and nut butters, and the like. It expanded adding a cafeteria, bakery, and books. Known at the time as the Eden Deli, it was one of very few places in the USA where one could get natural, organic, and macrobiotic food.
People came from near and far. Health food stores began calling, asking for help in getting the foods we carried in our store. The EDEN brand began to take shape.
In 1972 Eden opened its first warehouse and established relations with artisan Japanese traditional food makers. Importation of sea vegetables, teas, miso, shoyu, umeboshi plums, kuzu root starch, rice vinegar, rice bran pickles, mirin, etc., followed, and this solidified Eden as an important natural food source for the United States and Canada."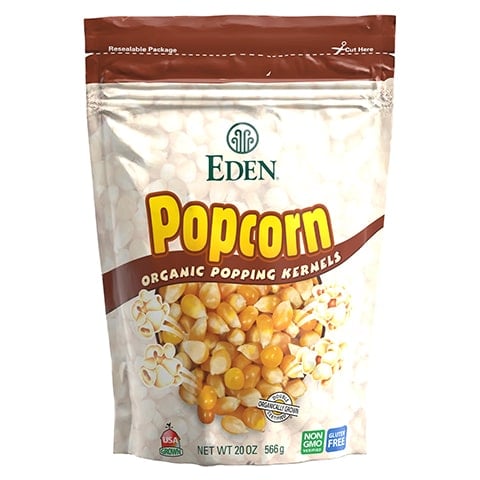 For my review, the kind folks from Eden Organic sent me their Organic Popcorn! Before Eden Organic, I did not know that there was "organic popcorn"! It is certified organically grown on USA family farms. I'm a huge fan of purchasing products (especially food products) from my country. This popcorn is a carefully selected yellow variety with superior popping qualities that produce large, fluffy and nutritious popped kernels. Eden Organic's Popcorn is also tested GEO free. This is such an EASY way to add Heart Healthy whole grain to your diet!
To prepare the popcorn, all you do is place 1/2 cup Eden Organic Popcorn and 2 tablespoons of Eden Organic Soybean Oil and a 1/2 teaspoon of Eden Sea Salt in a 4-quart pan with a tight lid. Just place it on high heat until the corn starts popping. Shake occasionally until popping stops.
"
A certified organic, Eden selected yellow popcorn with superior popping qualities – large, fluffy tender morsels bursting with pure flavor. Popcorn is a most popular snack food in the U.S. with 70 percent of it being enjoyed at home. It's a whole grain alternative to high bad fat, high sodium snack foods. Organic helps cleanse the environment. The resealable package retains moisture needed for popping. Low calorie, low fat and rich in fiber. Non-organic popcorn is on the FDA's list of top ten foods most contaminated with toxic pesticides and chemicals. Sprinkling Eden Organic Gomasio (sesame salt) or Eden Shake on it instead of salt. A Heart Healthy* whole grain food."
I'm normally very skeptical of organic food that I've never tried before. Organic popcorn? Hmmm, I had to see what this was all about. While I was allowing the popcorn to finish popping, I was surrounded by the intoxicating smell. I love the smell of popcorn!! Did it taste as good as it smelled? Yes! It tasted much better than it smelled, and that's saying something!
Popcorn Balls
Serves 12 | Prep Time 0:10 | Cook Time 0:12
Ingredients
Directions
Pop corn per package directions and place in a large mixing bowl.

Combine the barley malt and maple syrup in a small sauce pan. Bring to a boil over a high flame. Reduce to medium-low and simmer, stirring constantly, for 5 to 7 minutes. Pour the hot syrup over the popcorn and mix thoroughly. Moisten your hands slightly with cold water. Take a handful of the mixture and form into a ball while packing firmly with your hands. Repeat the above steps, making sure to moisten your hands before making each ball. Wrap the balls in wax paper, plastic wrap or place in a covered container and freeze until the syrup hardens.
Yields: 12 popcorn balls
Nutritional Info
Per serving: 55 Calories, 4g Fat (56% calories from fat), 1g Protein, 6g Carbohydrate, 2g Fiber, 0mg Cholesterol, 72mg Sodium
Disclaimer: I received the above product(s) from Eden Foods free of charge in exchange for an honest review. No other compensation was received. However, all opinions are strictly my own.