I am a huge fan of Bath & Body Works, and when I heard that they were launching a new collection named Paris, With Love…I knew that I wanted to be apart of it!
…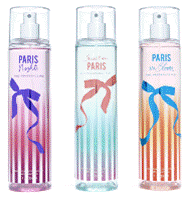 Included in the Paris, With Love collection are shower gels, body lotions, and fine fragrance mists. The fragrance bottles are elegantly designed to illustrate the chic Paris city. I received one of the body lotions, and it smells oo la la! I'm a sucker for pink colored lotions, and they tend to be moreso just for looks than what they're supposed to be for. However, I found this particular lotion from Bath & Body Works to be rather rejuvenating. My skin felt incredibly soft and luxurious. I often reapply lotion to my hands every few hours, but this lotion kept my skin moisturized much longer.
In case you didn't know, Bath & Body Works locations are throwing a Welcome to Paris Party! While I won't be able to attend since that's the day I'm going car shopping, I know my readers might want to know about this shindig!
…
Date: Saturday – August 11th
Time: 1-5PM
Where: Participating Bath & Body Works Stores nationwide
…
If you attend the party and purchase any full-size signature collection product, you will receive some pretty cool freebies! What to know what freebies? You'll get Sweet Cinnamon Pumpkin mini candle, trial size body lotion, Caramel Apple PocketBac and holder (to hold all your swag)! I SO wish I could go!
Don't forget to RSVP to the Welcome to Paris Party!!