If you have been following me on Instagram or Facebook, you know I'm struggling to lose weight. It's like every 2-3 months, the scale goes up another 10lbs. I know what I'm doing wrong, and it's so difficult for my brain to refuse those certain things (ie: Coca-Cola and Hawaiian Rolls). However, I have decided to put 100% of myself into my weight loss journey after I return from my vacation in Orlando, Florida.
Of course, you can't work out in your regular clothes. I mean, you can…but that's rather uncomfortable, and I'd rather not stink up shirts and pants that I wear outside of the gym. Aurorae Yoga has a few awesome yoga apparel products that I've been dying to try out, and I actually got to review their Capri Yoga/Running Pants. If you remember, I actually reviewed their "Synergy" Yoga Mat-Towel Combination and Lavender Meditative Mist.
…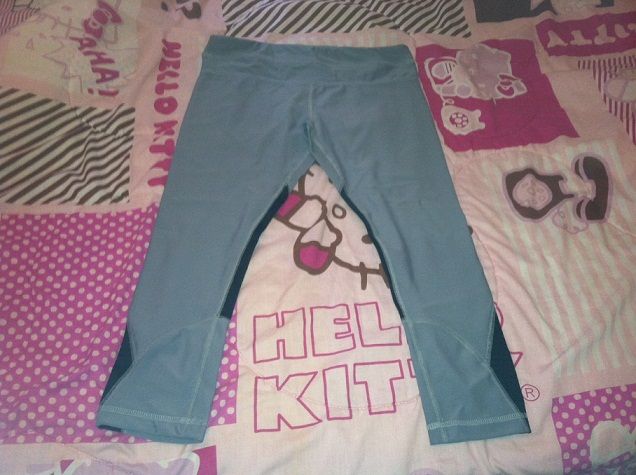 (Front)
I do have to say straight off – I'm currently unable to (comfortably) fit into these pants due to my weight gain, which I'm quite upset about. I absolutely love the design of these pants, as I've seen similar pants on Tumblr that I've adored. Instead of tossing them into the box that I have for when I get smaller, I decided to hang them up on my wall as a reminder to why I'm losing the weight. 42lbs to be exact (that'll put me down to 120lbs). I would be lying if I said that the #1 reason for wanting to lose weight is for my health. I want to look good and feel good in the clothes that I wear, and honestly, this past year – I have been able to do so.
But, back to the super cute Capri Yoga/Running Pants from Aurorae Yoga. Even though I have gained weight, I still enjoy being active. I still participate in races and runs. These pants are absolutely perfect for both yoga and running. They are available in black, grey and black combo.
…
These pants are quite stretchy, but don't let the looks fool you – the fabric is actually breathable, which you usually don't find in tighter-fitting yoga pants. These yoga pants grip and contour to your body, so it's able to move with you.
….
I absolutely cannot wait til I'm able to fit into these pants (probably after I lose 10lbs). When that day comes, I will update this post with how I look in them.
…
You can purchase the Cropped Yoga Pants from Aurorae Yoga for $42.99.
…
Stay connected with Aurorae Yoga via Facebook, Twitter and Pinterest.
…