Rewind to when Isabella was 8 months old.
Bella drank milk from a sippy cup with no problem.
My mother and my grandmother gave me a hard time because they waited til their babies were 12 months.
I always heard to break them around 6 months.
Fast forward to right now, Isabella is almost 15 months old.
The switch from formula to cow's milk was easy.
Isabella goes crazy over it.
…now she won't let go of the bottle to save either of our lives.
I SHOULDN'T HAVE LISTENED TO MY KINFOLK!!!
I knew in my HEART that she was ready when she was 8 months…but I felt pressured.
I don't know how to break her from the bottle.  
I've tried nearly every sippy cup on the market (seriously)…and only two pass the "no leak/spill test". 
Tommee Tippee Stage 1 with Handles and Playtex Soft Spout with Handles.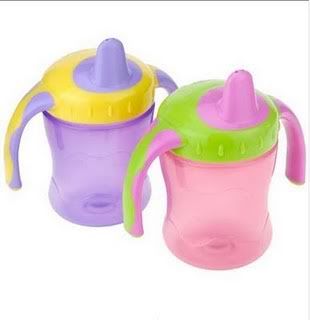 While she'll drink her juice from the Playtex sippy, she refuses to drink milk out of it.
Since the Tommee Tippee sippy cup is new, she doesn't want any part of it right now.
Yesterday, I was on the edge of my seat…because she had the sippy cup with milk to her lips.
OHHHHHHHHHHH
She put it back down!
IT'S BACK IN HER MOUTH!!
Soooo close, yet soooo far away!
Suri Cruise, age 4, with bottle
I DEFINITELY want Isabella broke from the bottle before she has hair this long!!
Do any of my AWESOME readers have any tips to break my daughter from the bottle? (: