There is no doubt that teenage pregnancy is a problem in the US. Kids as young as 11 and 12 knocked up by a guy they thought they would be with forever. Let's face it. A small percentage of couples have been together since they were preteens. The mere thought of my past relationships makes me cringe, and I would cry if I had to be with one of them douchebags "for the rest of my life". While teenage pregnancy is being glamorized on television and magazines, millions of grandmas are stepping in to take care of their daughter's daughter (or son). If you're new to my blog, you're probably thinking to yourself – "That's a harsh statement. You don't know what those young girls are going through. You have no right to judge them. Walk a mile in their shoes."
I have.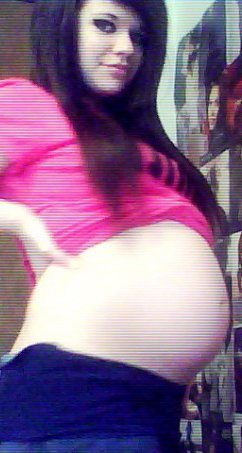 That's me in all of my pregnant glory………at 18. Why couldn't I get knocked up at 17 or 20 so I'd know for sure if I'm classified as a teen mom or not. You're a legal adult once you turn 18, so I was never too fond of being called a teen mom.
Why can't I just be called mom?
Anyhoo, I know all too well of the trials and triumphs of being a young and pregnant. If you are in your teens and are considering persuading your future ex-boyfriend to procreate, DON'T. Trust me. Babies are awesome, but so is living your teenage and young adult life.
Do you feel comfortable picking someone else's boogers?

Will you get grossed out at another person's fecal matter touching your hand? It will happen. A lot.


…
…

Unfortunately, according to numerous statistics and what I have witnessed first hand, you will be in this alone. The dude you thought was the love of your life is nothing more than a scaredy cat unable to own up to his part of Y'ALLS child. It takes two to tango and to conceive a baby.
…
…

Those friends you hangout with all the time? Expect them to drop like flies. It's okay, though. You don't need fairweather friends. The ones that stick around –

cherish them

. However, if you're like me, they have kid(s) too.


…




…

Are you okay with the harsh glares and awkward stares? Does that bother you? If not, proceed with caution.


…




…

Babies are more expensive than a crappy McDonald's job can afford. Graduate from medical or law school before you have children. Or marry someone who did. Either works.




…




…

Be prepared to have every parenting decision you make scrutinized and criticized via in person, over the phone and by people on the internet who don't even know you. You thought trash talking about how ugly your hairstyle is was unacceptable? That is kid stuff. Oh…wait…




…




..

Unless you're one of the nonexistent lucky gals that bounces back right after giving birth, you're going to be in for a rollercoaster concerning your weight. 2 1/2 years later…and I am STILL not where I was before I had my daughter. You want to know what that does to your self-esteem? Going from a size 2 to a size 7? It crushes it…you know…like that boy did to your heart once he found out he was going to be a daddy!
…
…
A set of eyes will be watching you pee. Solo bathroom trips = mini vacations.
…
…
Oh, you want the new Louis Vuitton hang bag? TOO BAD. BABY NEEDS DIAPERS...
…
 Your heart will be walking outside of your body. A love between mother and child is incomparable. You will never stop worrying about your baby. You will have many jobs including nurse, taxi, chef, maid and police. Your days might be longer, your days might be shorter, your eyes may baggier. One word of advice for ALL parents, regardless of age –


…


This, too, shall pass.


…




…







…